American Idiot-musikalen och 2011 Grammy Awards
Publicerat:

4 december, 2010

/

Notice: get_currentuserinfo har upphört sedan version 4.5.0! Använd wp_get_current_user() istället. in /storage/content/91/165891/greenday.se/public_html/wp-includes/functions.php on line 4338
Billie Joe kommer att göra comeback som St. Jimmy i uppsättningen av American Idiot på Broadway. Kolla in musikalen om du har vägarna förbi New York i januari och februari!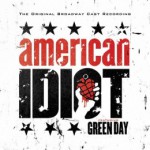 American Idiot – The Original Broadway Cast Recording har blivit nominerad i kategorin "Best Musical Show Album" till Grammy-galan i Los Angeles den 13 februari 2011.
Rob Cavallo, som har producerat de flesta av Green Days album sedan Dookie, har blivit nominerad i kategorin "Producer Of The Year", för bland annat When It's Time.
6 kommentarer